Register/Login to CEO with your Social Media Account:
Hello every person,
**This discussion is going to be a little bit more towards the petrol head group like myself, but of course anyone can read**[/b]
Just wanted to write small tip here for car owners in the Kingdom, as this may or may not occur to you as something to consider. What do I mean? I mean your oil change interval. Let me explain.
If you're from the West or a Western influenced country, you're probably familiar with the 5,000 km/6 month oil change interval for "hard" driving and 10,000km/1 year interval for "regular" driving. In miles you might hear of 3,000 mile oil changes for conventional oil and 5,000 to 7,500 for blended oil, and 10,000 for full synthetic.
Now I am well aware that many mechanics will recommend the 3,000 mile oil change and that many mechanics will also say that it is completely wasteful. I personally lean towards the "wasteful" side because with the advancements in oil technology and additives, it has been demonstrated time and again that there is no need for the 3,000 mile oil change under any circumstance, even as extreme as New York City taxicabs.
See here:
http://www.xs11.com/xs11-info/articles/ ... -1996.html
However, there is at least ONE exception to that, and that exception is a little place we call Cambodia. Why? It's not down to junk oils, it's not down to dirt and dust, it's not down to heat, and it's not down to heavily used/crashed 2nd hand cars. So what is it down to then?
Time.
Time is the reason why I in fact not only recommend people change their oil every 5,000 km (3,000 miles), but possibly a bit sooner than that, and here is a little bit of maths to show why.
In a country with better roads and less wandering obstacles, the average speed of a vehicle is going to be much higher. See here, 60 km/h, about 40 mph. My personal Toyota pickup's computer said about 48 mph or (77 kph), U.S. roads. (stock image, not my truck)
In Cambodia, average speeds are somewhat...erm, lower. 6.5 mph, that's 10.5 km per hour.
So what's the point? Well think of industrial equipment where mileage is irrelevant to measuring how long between oil changes. What do they use? They use hour gauges, like this here on a generator. The concept is very simple, run the engine for xx hours and then change the oil.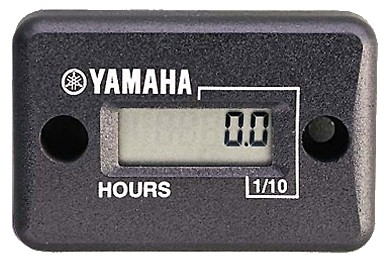 Now what does this have to do with cars and 5,000 km (3,000 mile) oil changes?
Let's imagine we averaged 50 km/h (30 mph) over the course of our engine oil's life. Over 5,000 km @ 50 km/h, those 5,000 km would be acheived in 100 hours.
5000km / 50km-hr = 100 hr
Now imagine we averaged 10 km/h (like my average so far for this tank of fuel). Over 5,000 km @ 10 km/h, those 5,000 km would be done in 500 hours!
5000km / 10km-hr = 500 hr
See the point here? Just because it takes so long to cover those 5,000 km, you run the potential of running your engine up to 5 TIMES LONGER on the same oil. It might help to explain why after the recommended interval that engine oil can look like this...
Now I know that colour is not an indicator of if oil is good or not (think diesels), but I've never seen a petrol car look like this after 5,000 km. Even at 10,000 km I've seen cleaner oil, so when I just got this oil change done I was a bit surprised to say the least.
Now you might ask, "Wait, what about all your other cars before then? What did you do?" Well truth be told, I usually never kept a car longer than 5,000 km in Cambodia.

The only thing I've had here where I've had multiple oil changes done on it was a turbo diesel, so oil always looks black when changed.
So what is the conclusion here?
Truth be told I have to estimate on this one, but here is what I recommend.
Given the condition of the oil that came out of the engine when it hit (and somewhat passed) 5,000 km (remember it is not a diesel), I would venture to say it's a very good idea to change your oil a bit sooner than that. It's really hard to say when, but given the average speed I tend to clock is around 15 km/h max...4 to 5 times slower than my average speed of around (80 kph) 50 mph which I would average in the U.S., I would suggest changing the oil in your vehicle slightly sooner than 5,000 km, probably in the 3,500 - 4,000 km range.
I believe this would offset the unnecessary "overchanging" of the normal 5,000 km oil change, but also compensate enough for running your engine 3-5 times longer on the same oil, in traffic, with no airflow over the radiator, etc etc.
Now obviously this applies to Phnom Penh mostly, or people only in the city or those that travel around slowly, but you get the idea of where I am coming from hopefully.
You can debate and add your opinion in if you want, I'm just putting this out there in and effort of trying to save everyone's engines.

Okay, until next time.
AE86
Reckless driving cucumber - 成
Expatriate
Posts: 3017
Joined: Wed Jul 01, 2015 11:49 am
Reputation:

550

Location: Sihanoukville
Got a lot of free time there, buddy?
Expatriate
Posts: 429
Joined: Thu May 15, 2014 5:03 pm
Reputation:

120

Location: is everything
Very good info, as usual. I've tried telling others the same thing for 20 years, but they just don't listen because that's not what they were taught in the "west", or they say it's too expensive.

Long ago, you posted about the importance of letting the engine idle and come to operating temp before jamming that throttle open for a cool takeoff, even in this hot environment. I still do this, and have tried to explain to friends and relatives.

Thanks Akira! Please keep it up, even when you're not in Cambodia!
cptrelentless

wrote:

↑

Thu May 11, 2017 1:15 am

Got a lot of free time there, buddy?
Not much to do after 11 at night, and I like to write.
Reckless driving cucumber - 成
Expatriate
Posts: 2068
Joined: Thu Oct 02, 2014 1:23 am
Reputation:

8
not read it yet too busy and got bored but I will later.

I have been warming up my cars engine for over 10 years (when I was getting new cars) and both did high miles
i am on these blocked lists;
pucketrichard
hotdgr
sailorman
rozzieoz
stroppychops

Similar Topics

Replies
Views

Last post
Users browsing this forum: angsta, Bongmab69, Cameron_Newbe, Cooldude, fsdfdsdf, Grand Barong, hburns, John Bingham, Lost50, nerdlinger, phuketrichard, PSD-Kiwi, samrong01, SINUS, talltuktuk, wendyaspinall and 241 guests