Register/Login to CEO with your Social Media Account:
Expatriate
Posts: 12810
Joined: Wed May 14, 2014 5:17 pm
Reputation:

3482

Location: Atlantis
Sad state affiars there now. Many now see Aung san's true colors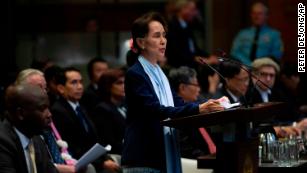 Fmr. UN official: Aung San Suu Kyi defense is 'farcical' 15:42
(CNN)The top court of the United Nations has ordered Myanmar to prevent acts of genocide against the country's persecuted Rohingya minority and to stop destroying evidence, in a landmark case at The Hague.
The case was brought to the International Court of Justice (ICJ) in the Netherlands by the tiny West African nation of Gambia, which in November alleged that Myanmar committed "genocidal acts" that "were intended to destroy the Rohingya as a group" through mass murder, rape, and destruction of communities.
It asked the 15-judge court to enact provisional measures to compel the Myanmar government and military to end all acts that amount to or contribute to genocide, and to ensure Myanmar preserves evidence that could play a part in the case.
The court found that Myanmar did not present concrete measures "recognizing and ensuring (the) right of Rohingya to exist as a protected group" under the genocide convention. And it said there was still a "real and imminent risk of irreparable prejudice" against the rights of the Rohingya.
The court ruled that Myanmar must take all steps within its power to prevent acts against the Rohingya such as "killing, causing serious bodily or mental harm, deliberately inflicting conditions calculated to bring about destruction of the group, and imposing measures intended to prevent births."
https://edition.cnn.com/2020/01/23/asia ... index.html
In a nation run by swine, all pigs are upward-mobile and the rest of us are fucked until we can put our acts together: not necessarily to win, but mainly to keep from losing completely. HST
Similar Topics

Replies
Views

Last post