Register/Login to CEO with your Social Media Account:
Expatriate
Posts: 128
Joined: Sat Sep 28, 2019 8:51 pm
Reputation:

22

Location: In t' naughty lass
Well, judging by the facial expressions, the EU-Remain coalition must have finally been outflanked. Monsieur Barnier looks so pissed off, unlike the UK guy.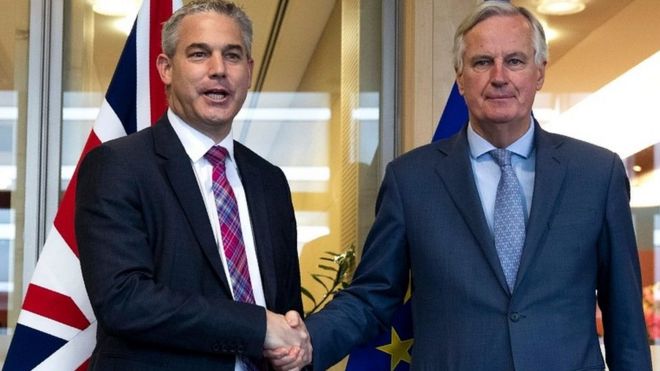 https://www.bbc.com/news/uk-politics-50007206
What has also transpired, is that there is more than one legal mechanism to get round the Benn Act (the law that says Boris has to ask for an extension by the 19th).
1. Orders of Council, to delay the Benn Act until after October 31st - just needs 3 Privy Council ministers, and no Parliament or Royal Assent. The Remainiacs will go ballistic if he does that, and all the Remainstream media will be stepping up the character assassination, which may only harden support for him.
https://privycouncil.independent.gov.uk/orders/
2. Article 127 of the EEA Agreement, which allows the government to give 12-months notice to leave the EEA, which means they will stay in the EEA, for a year, and avoid any of the WTO rules kicking in, regardless of any extension. There's nothing in the EEA Agreement about what happens when a country leaves the EU, only about when it joins.
https://www.eversheds-sutherland.com/gl ... ory/EEA_EU
3. Vote of No Confidence on the 22nd... if it passes, then there are 9 days for the opposition parties to form a coalition before the Brexit leave date, that would mean the LibDems having to agree to Corbyn as PM; but that means they have to have second vote of confidence in the new government, or it's a General Election, which on current polling would be won by the Tories, and the extension would be meaningless. Officially they have 14 days, but they aren't likely to drag it out that long.
So the "rainbow opposition", which is really the LibDems and Labour and SNP would have only a few days to bite their lips and give up their primary policy desires for the sake of trying to stymie Brexit.
https://www.instituteforgovernment.org. ... aments-act
They couldn't realistically create a second referendum without having a General Election to get a mandate, so if they did form a government of national disunity, they would be likely to try and bend over and get any soft Brexit deal the EU demanded, and the eventual General Election would likely see large losses for them, and a restart of the whole Brexit process with a majority pro-Brexit government.
In short, the Remainers can't stop Brexit, only delay it, and keep the economic and social damage they're doing carrying on and on and on until the public vote them out.
I'm not like other boys...
Similar Topics

Replies
Views

Last post
Users browsing this forum: beaker, BillDoe, Born-Confused, chiltern, clutchcargo, Cooldude, crob, Deefer, Dr. Ifter, Grand Barong, John Bingham, Joker Poker, Kammekor, mannanman, orussey98, Oumedc, Ozinasia, paul2d, Spigzy, techietraveller84, Username Taken, xandreu and 379 guests