Register/Login to CEO with your Social Media Account:
Marty

wrote:

↑

Mon Feb 10, 2020 9:20 am

Alex

wrote:

↑

Sun Feb 09, 2020 1:09 pm

I'm surprised that this kind of thing doesn't happen more often. I guess serving in the Thai army, in itself, could drive a person mad - a braindead job, following orders of braindead superiors who have no honor day in and day out. But who knows, he might have had underlying issues beyond that - they wouldn't have checked or cared.

It is well documented that Thais are all generally braindead. But why do you claim they have no honor day in and day out? Please provide a link or furnish some evidence of that.
I didn't write that Thais in general have no honor. You may google the Thai army's countless crimes and atrocities yourself if you're unconvinced that they have no honor.
Expatriate
Posts: 1088
Joined: Sat Feb 09, 2019 2:01 am
Reputation:

674
That's bitterness gone mad....a 1600 $ trigger-situation and a soldier,fully equiped, supposed to be strong at enduring stress, kills 30 random civil compatriots.... Can't help but imagine the victims happy to give him 53 $ each to spare their lives, if asked before...it's a silly thought i know...hard to rationalize rage...
RIP* to the victims, heal well to the survivors
* Rebirth In Peace.
Another shooting going on now this time in Bangkok


Expatriate
Posts: 12812
Joined: Wed May 14, 2014 5:17 pm
Reputation:

3482

Location: Atlantis
https://thethaiger.com/news/bangkok/sho ... rsity-live
Police in Bangkok have reported that they are searching for a 40 year old man who has allegedly fired more than 20 gunshots in public space close to Chulalongkorn University this morning.
Eyewitnesses claim they heard the gunshots in the Pathumwan area, on Chula Soi 10, near Chulalongkorn University. At this stage the situation is unclear whether anyone has been injured as a result of the unfolding incident. The reports of another shooting incident comes just days after the mass shooting in Korat, Nakhon Ratchasima which killed 29 and injured up to 50 others.
In a nation run by swine, all pigs are upward-mobile and the rest of us are fucked until we can put our acts together: not necessarily to win, but mainly to keep from losing completely. HST
Expatriate
Posts: 4786
Joined: Sat Mar 23, 2019 11:31 am
Reputation:

2817

Location: Gilligan's Island
I just heard it has been going on 5 hours already.
Shots fired into the air, nobody yet hurt.
Area closed and shooter's family trying to talk him down.
Could this be a copycat situation, monkey see, monkey do?

The one that really took the cake in the land of mass shootings was the 63 year old millionaire that shot up Las Vegas, taking his inspiration from a shooter in a tower in Texas in 1966!

Pretty exciting stuff, but I'd rather people smile instead of fire!
GUNPERSON WHO FIRED 40 SHOTS CLOSE TO CHULA UNI ARRESTED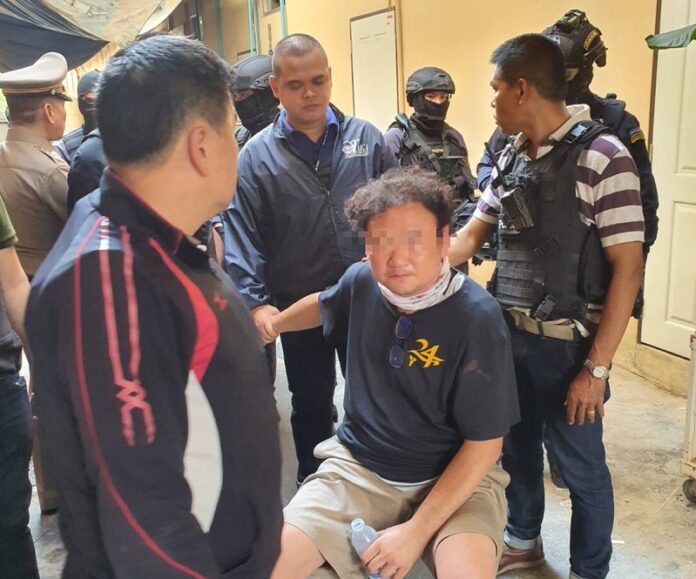 Although police spokesman Kitsana Phatanacharoen said the incident is not another "mass shooting" as reported by some on social media, there is a widespread fear in Thailand over a possible copycat of the killings in Korat.
https://www.khaosodenglish.com/news/cri ... olice-say/
If he was a copycat he wasn't that good at it. The terminal 21 shooter scored 30 kills, this guy none. With 20 shots he should have at least got 20 kills.
Expatriate
Posts: 4786
Joined: Sat Mar 23, 2019 11:31 am
Reputation:

2817

Location: Gilligan's Island
Give the guy a break, Marty
he has a serious a serious disability in the eye department
check the photo
mass shootings are an equal-opportunity opportunity for any dingbat who wants to be famous
if he is batshit blind, so much the better
Similar Topics

Replies
Views

Last post