Register/Login to CEO with your Social Media Account:
Expatriate
Posts: 34989
Joined: Sun Oct 12, 2014 5:13 am
Reputation:

1910

Location: CEO Newsroom in Phnom Penh, Cambodia
Contact:
Banteay Meanchey, Cambodia News: On the 14th of November, 2018 on National Road 5, a fatality occurred when a woman road worker was crushed by heavy machinery. The victim was identified as Vann Chik, 38 years old, from Prek Ro Pov village, Russey Krok district, Mongkul Borei district.
The accident happened in a road repair zone, when the driver of a heavy roller failed to see the woman, who was squatting by the roadside to urinate.
Police came to investigate the accident scene and removed the body to give to the family.
Cambodia Expats Online: Bringing you breaking news from Cambodia before you read it anywhere else!
Have a story or an anonymous news tip for CEO? Need advertising? CONTACT US

Cambodia Expats Online is the most popular community in the country. JOIN TODAY

Follow CEO on social media:
Facebook
Twitter
YouTube
Google+
Instagram
Expatriate
Posts: 1784
Joined: Sat May 17, 2014 4:19 pm
Reputation:

560
Surely, it should be the urinating woman who failed to notice the slow moving fucking steam roller lumbering toward her??

R.I.P and all, but I've got that scene from the Austin Powers movie in my head now.
1. The dude driving the roller appears to be asleep. Better than on the phone.. I guess.
2. The deceased woman appears to be resting in the shade, not taking a leak.
3. Someone within 10m of the woman took this photo and did nothing.
Impossible to tell if the roller is in motion when the photo was taken. I fucking hope it wasn't and some cunt didn't just film her being crushed to death.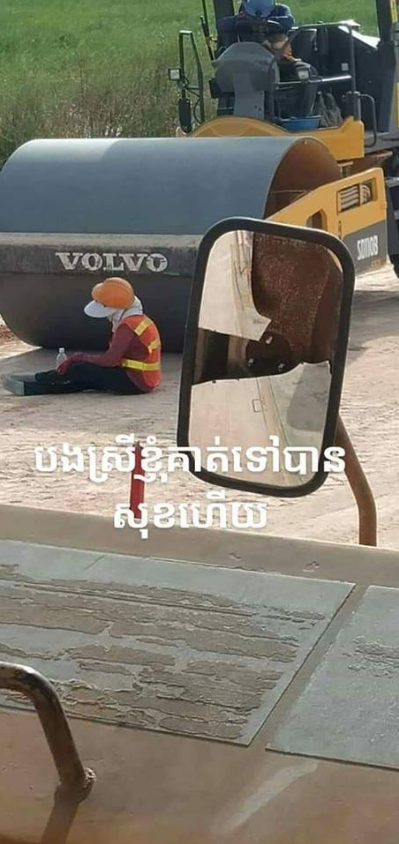 Expatriate
Posts: 1784
Joined: Sat May 17, 2014 4:19 pm
Reputation:

560
Given that the shade she is resting in is being cast by the roller; perhaps both the the operator and she had a nap.

Then operator wakes up, starts up and rolls over her.

Makes way more sense than the OP.
Expatriate
Posts: 3007
Joined: Wed Jul 01, 2015 11:49 am
Reputation:

539

Location: Sihanoukville
The local women generally piss behind screening shrubbery, rather than right in front of everyone
Similar Topics

Replies
Views

Last post