Register/Login to CEO with your Social Media Account:
Expatriate
Posts: 2945
Joined: Tue Mar 22, 2016 12:50 pm
Reputation:

920

Location: Phnom Penh
EMC Motorbike Rentals in BKK1 posted on FB on the 15th that one of their bikes, a Honda Vision, had been stolen. Four days later they got it back (abeit in a new colour and with different plates). They had not even reported to police that it had been stolen. Police spotted some suspicious dudes in Stung Meanchey and busted them with drugs and stolen motos. Pretty lucky for EMC!
http://www.freshnewsasia.com/index.php/ ... 17-39.html
The bike before and after (note a little bit of the original yellow not covered with the film):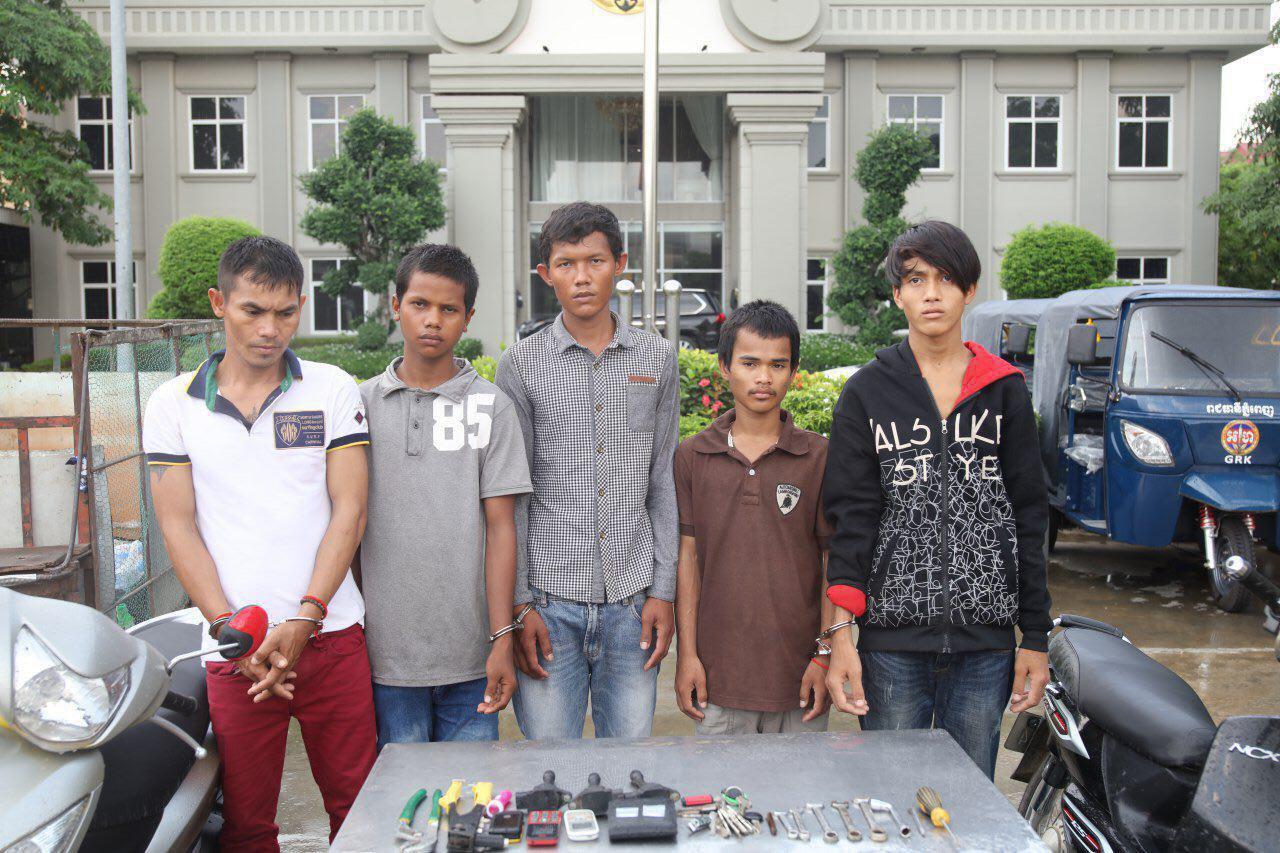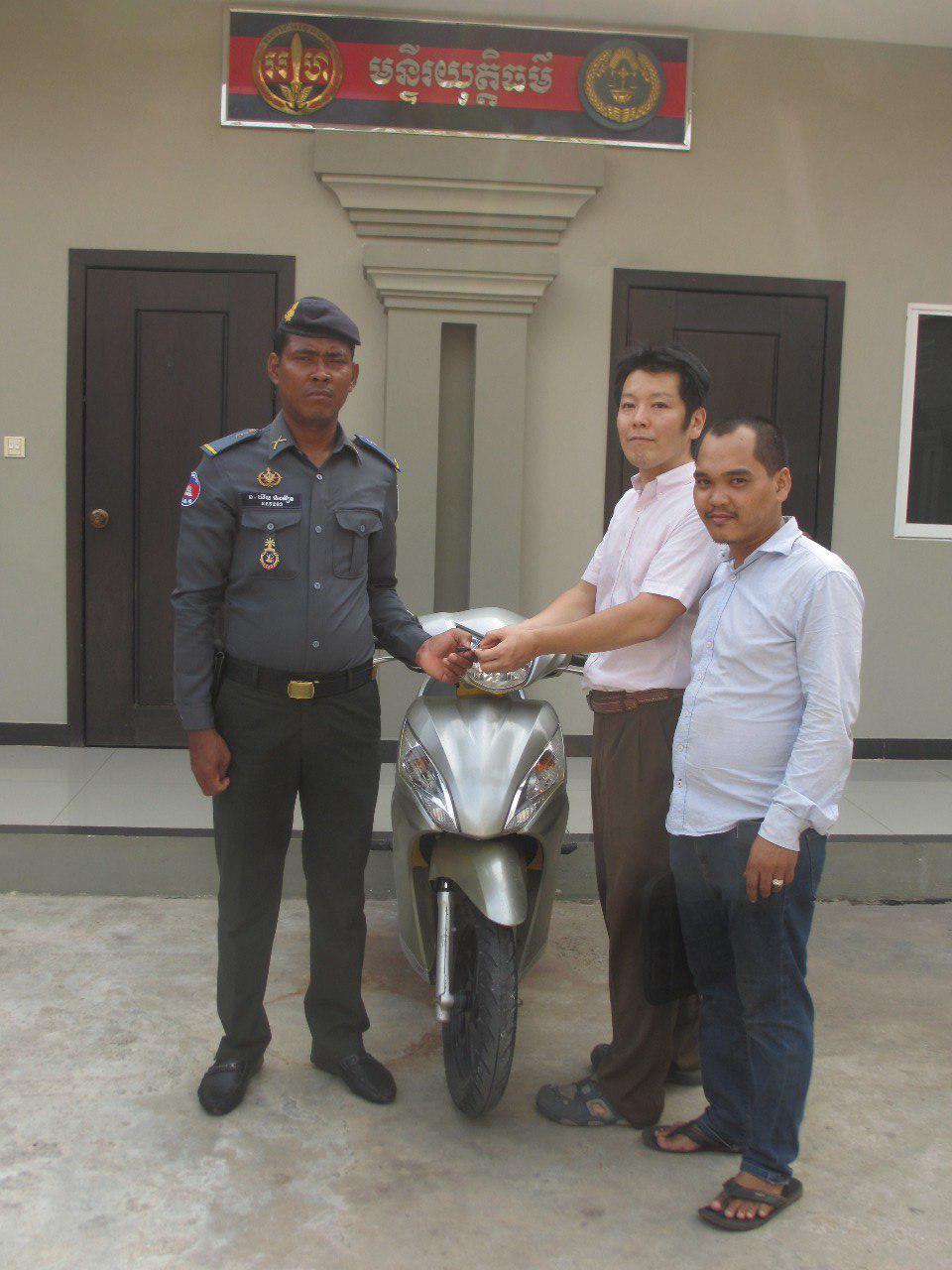 No matter how much it rains, the dirt never washes away.
Expatriate
Posts: 43040
Joined: Sun Oct 12, 2014 5:13 am
Reputation:

2580

Location: CEO Newsroom in Phnom Penh, Cambodia
Contact:
Phnom Penh: On May 22, a 45 year old Japanese man, Kobu Hysaki, received his Vision motorbike back from Military Police in Phnom Penh, after it was stolen by a group of thieves on May 13, 2018.
On May 18 at 1:10 am, the polices raided a group of thieves at Non Mony pagoda, and 3 suspects were arrested after they found packs of drugs, the equipment for breaking motorbike locks, a Tuk Tuk and a Vision motorbike. At 9:30 am, the polices arrested other 2 suspects and confiscated a Honda motorbike plate no.1B-3094. The 5 suspects who were arrested have been identified as Ly Soklim, 36 year old man, Yan Vuth, 21 year old man, Khwan Nasa, 15 year old man, Brenh Ny, 18 year old man and Trev Vanneng, 18 year old man.
The suspects confessed that they were a group of thieves who steal motorbikes by breaking the lock. They stole a vision motorbike at Apsara Television area on May 13, and a Honda motorbike at Ang Tameng pagoda area.
The police searched for the motorbike owner, who was the Japanese man, and returned the Vision motorbike to him. The case of 5 suspects was prepared and submitted to court on May 21, to follow the legal action.
Cambodia Expats Online: Bringing you breaking news from Cambodia before you read it anywhere else!
Have a story or an anonymous news tip for CEO? Need advertising? CONTACT US

Cambodia Expats Online is the most popular community in the country. JOIN TODAY

Follow CEO on social media:
Facebook
Twitter
YouTube
Google+
Instagram
Expatriate
Posts: 4065
Joined: Wed Dec 06, 2017 7:53 am
Reputation:

960
Similar Topics

Replies
Views

Last post
Users browsing this forum: Alex, Apollo91881, armchairlawyer, barang_TK, Bitte_Kein_Lexus, boofhead, bunfuntamun, bussterr, Cooldude, Cowshed Cowboy, DaniHirsch, Doc67, dullretard, Element6, ergosemper, ExPenhMan, fsdfdsdf, Google [Bot], Ingvar 7788, IraHayes, Jake the Bake, Jerry Atrick, Joker Poker, Kammekor, KunKhmerSR, Little_Vicious, LoukBongThom, Matthew Robinson, Mr.November, ned kelly, nemo, NitNoi, Ozinasia, Patcan, phil, Phnom Poon, phuketrichard, Repr0b8te, Soriya, STEVITO, themistyseas, username, Whatsupdoc, xandreu and 1423 guests