Register/Login to CEO with your Social Media Account:
Expatriate
Posts: 35801
Joined: Sun Oct 12, 2014 5:13 am
Reputation:

1979

Location: CEO Newsroom in Phnom Penh, Cambodia
Contact:
Another search for VN soldiers' remains in Cambodia
HÀ NỘI – Military Zone 9 said it was co-operating with Cambodian localities in searching for the remains of Vietnamese voluntary soldiers who died during wars in Cambodia.
A delegation of Military Zone 9, which covers 12 localities in Việt Nam's Mekong Delta, visited Cambodia's Kampong Chhnang Province yesterday to discuss joint efforts in searching for and repatriating the remains of Vietnamese soldiers. Since 2001, as many as 6,489 sets of remains of Vietnamese voluntary soldiers and experts, who died during wars in Cambodia, have been found and repatriated. Of these, 291 sets of remains were found in Kampong Chhnang Province.
The remains of 1,000 Vietnamese soldiers in Cambodia were still missing, a Military Zone 9 official said.
Chhouk Chandoeun, head of Kampong Chhnang Province, said the local authorities and people had always supported the search and said they would try their best to help the Military Zone 9 search team.
The move represented humanity, solidarity and friendship between the governments and peoples of the two countries, he said. – VNS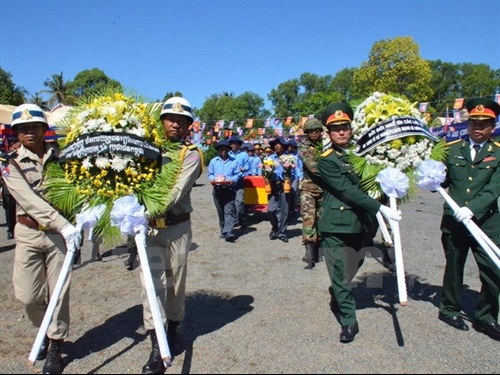 A ceremony being held to repatriate the remains of Vietnamese soldiers from Cambodia to Việt Nam. – Photo vietnamplus.vn
Source:
http://vietnamnews.vn/society/294553/an ... bodia.html
Cambodia Expats Online: Bringing you breaking news from Cambodia before you read it anywhere else!
Have a story or an anonymous news tip for CEO? Need advertising? CONTACT US

Cambodia Expats Online is the most popular community in the country. JOIN TODAY

Follow CEO on social media:
Facebook
Twitter
YouTube
Google+
Instagram
Expatriate
Posts: 732
Joined: Tue Sep 20, 2016 2:50 pm
Reputation:

42
FAIR PLAY (as they say in Ireland)

Cambodia is (maybe) the only country to thank its liberators
Expatriate
Posts: 7845
Joined: Sun Dec 07, 2014 11:26 pm
Reputation:

3655
boozyoldman wrote:
Cambodia is (maybe) the only country to thank its liberators
Are you joking? A whole lot consider it an invasion rather than a liberation.
Expatriate
Posts: 732
Joined: Tue Sep 20, 2016 2:50 pm
Reputation:

42
"Liberation or Invasion?"
The ruling party commemorates the event as the former, the pitiable opposition says it was the latter.
There are even some who say that S-21 and the Kiling Fields and all the similar places all around the country are either
fakes, created by the Vietnamese or else evidence of atrocities committed by the Vietnamese against Cambodians.
Has anyone attempted to figure out what happened to each and every one of Sihanouk's (and Monique's) kin who
disappeared during the years of disaster?
Expatriate
Posts: 3858
Joined: Mon May 19, 2014 7:49 am
Reputation:

974

Location: Outside of Kampong Cham city
It is strange to read this. They always come to our village unannounced to look for the remains of their comrades in arms. It is especially strange since when the liberation (?) army arrived they did so so quickly that the KR soldiers barely had time to flee to the northwest. Plus since this was farming area there were no landmines. So no bodies to be recovered. So no one here knows why they come they only know that they come a few days before elections and stay one or two days past the election. They bivouac at brickyards owned by RCAF officers. They are in uniform, but as far as I can tell they carry no weapons but they may keep them concealed and under guard in their vehicles.

As for the local feeling toward the "liberation", they are grateful that they drove the KR out, but did not care for the gentler, kinder socialism the imposed on them. Furthermore few original family farm plots were returned to the owners. And of course they still enjoyed no political autonomy; all political decisions had to be approved by the Vietnamese experts. In short they stayed too long and tried to impose a variant of a political system that they found repugnant. So when they come on an apparent false mission they are tolerated but viewed with suspicion.
As my old Cajun bait seller used to say, "I opes you luck.
Similar Topics

Replies
Views

Last post
Users browsing this forum: AndyKK, Anty, bong.kuit, Conny, Cooldude, dirtymacca, Doc67, Google Adsense [Bot], John Bingham, lurcio, nathaniel.killick, Patcan, Pizzalover, Rtrac, Sallibotz, Sergio, siliconlife, simon43, SuperStabwound, tathom, Username Taken, Whatsupdoc, whatwat and 740 guests