Register/Login to CEO with your Social Media Account:
The Pun-isher
Posts: 6077
Joined: Mon May 12, 2014 6:51 pm
Reputation:

185

Location: The Kremlin
cue: OD ordering one: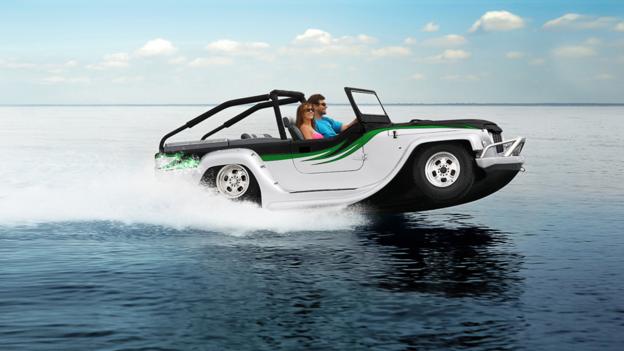 From The BBC
For decades, inventing a commercially viable amphibious car has remained a quixotic pursuit, right up there with robot maids and personal jet packs. Well, it may at last be time to strike one challenge from the list. The Panther, built by Fountain Valley, California-based WaterCar, is ready for its close-up.
Evoking a playful, James Bond vibe, the Panther is navigating water already churned by some short-lived predecessors, including the 1960s Amphicar from Germany and the more recent Gibbs Aquada, a Mazda Miata-like contraption that billionaire and serial adventurer Sir Richard Branson piloted across the English Channel in 2004.
The heart of the machine is a proprietary transfer case that engages the rear wheels on land and powers a jet pump in water, similar to a jet ski.
WaterCar bills the Jeep-like, four-passenger Panther as "the most fun vehicle on the planet," and the claim just might be legitimate. The heart of the machine is a proprietary transfer case that engages the rear wheels on land and powers a jet pump in water, similar to a jet ski. It takes about 15 seconds to convert from car mode to boat, and vice versa, says company co-founder and co-owner Fred Selby.
"Once you enter the water, you put the transmission in neutral, pull a knob to engage the jet, push a button to raise the wheels and off you go," he explains. "Then you just reverse the process when exiting the water."
Power comes from a Honda-sourced 3.7-litre V6 engine (the same one used in the last-generation Acura MDX sport-utility vehicle) matched to a four-speed manual transmission. On water, aided by hydraulically powered retractable wheels and a moulded fibreglass hull (the fruit of more than 100 test designs), the engine enables the 15-foot-long, 2,950-pound Panther to max out at a more-than-respectable 44mph. On terra firma, the craft will hit 100mph (though the company cautions that speeds above 55mph are not advisable).
Selby says the Panther, which is capable of carrying about 700 pounds, is unsinkable, thanks to a hull cavity filled with 32 cubic feet of closed-cell foam.
A complete, turnkey Panther sells for a cool $155,000; a $126,000 "turnkey minus" model allows buyers to install the engine of their choice (provided said engine is a 3.5- or 3.7-litre Honda V6). Selby says WaterCar has sold close to 100 Panthers so far, with customers ranging from Middle Eastern sheiks to Silicon Valley titans.
But if you're itching to take a Panther on your next romantic getaway, plan ahead; the wait for delivery is presently about 15 months – plenty of time to make it through the 920-page Chapman Piloting & Seamanship.
Jesus loves you...Mexico is great, right?

Back in the late '60s I almost bought a used Amphicar. I could have gotten it for very little money, but today collectors are paying big for them.
The Missionary Man
Posts: 10598
Joined: Tue May 06, 2014 11:24 am
Reputation:

1029
Joker Poker wrote:
B1: "Won't start, bong."
B2: "What's the problem, bong?"
B3: "Flooded, bong."
Bodge: This ain't Kansas, and the neighbours ate Toto!
Similar Topics

Replies
Views

Last post