Register/Login to CEO with your Social Media Account:
Expatriate
Posts: 3997
Joined: Sun May 18, 2014 7:32 pm
Reputation:

1007
I figure this is too tame for the VIP section. Hopefully we get a few nominations from users here. I know some of you have dated total wackos...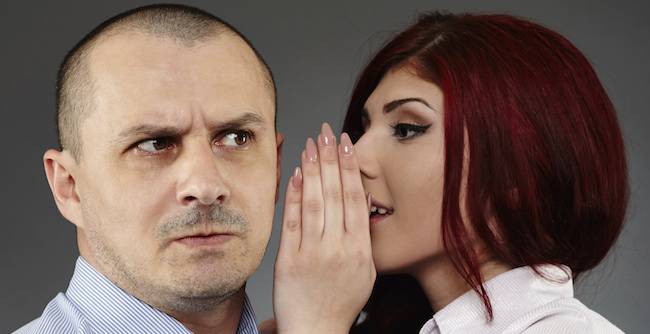 We've all had that "How I Met Your Mother" moment where you have to weigh out how hot a girl is compared to how insane she seems. Obviously not all girls are crazy, but odds are you'll run into a few throughout your life. A Reddit thread was put together for guys to discuss the creepiest thing a girl had ever said to them. Here are some of the most bizarre confessions:
1. Germ994
Wife and I were in town with our son visiting my parents when an old high school friend (she was only ever a friend) came by to meet my wife and two year old son. After we all sat and talked for a few hours and after what felt like a pretty normal night of company, we all got up to say good night and the friend hugged my wife goodbye then turned to me, grasped me very firmly into a hug, kissed me on the lips then whispered into my ear "Your son should have been ours. I love you!" Then turned like it was totally normal and waved goodbye to us and left. My wife didn't see or hear any of it and I never told her. She thinks the girl is a decent person and we'll never see her again.
2. Argle-Bargle
"You don't have to wear a condom, I'll just miscarry."
I wore a condom.
3. Johnsmcjohn
"Just so you know, I wrote your name on my leg with a boxcutter so I'll always have you near me."
4. Sc2RuinedMyLife
"Did you enjoy that dinner? I put my blood in it. Now part of me is inside of you."
Yes this actually happened. I thought she meant she put a lot of work into it, like "blood, sweat, and tears" and asked her...and she showed me the cut she made to bleed herself into the dinner.
5. Oskarvarg
So... A girl had a crush on me. One morning when I came home to my place there was a bag hanging on my front door. I bring it inside and see whats in it. I find a new set of pencils. There was also a spoon that you use to feed babies along with a bottle of baby food. A tiny pink hairclip I'd imagine a nine year old girl might wear. A three page letter telling me the letter was written by a polish girl who just moved into town. She called herself Tatyana D. and she wanted to meet new people in town. So she asked if I wished to bake "Dopplercookies" with here down by an abandoned warehouse at the docks (Yes, that is what she wrote).
Then as the letter progressed the text looked more and more as if someone wrote it while driving a bike. At the end of the letter it was more like random words. Later that same week someone tried to open my door in the middle of the night.
Another week passed and I got a visit at five in the morning from some staff from a home nearby where she apparently lived. They told me they found her sleeping in my bushes and she had run away every night for the last two weeks and that she was very ill at the time. They gave me a number to call "in case of an emergency." I did not sleep well that following month.
6. Kwantum0
"Your lips looked dry while you were sleeping, so I licked them for you."
7. We_are_the_Odd
Copied from an email I received from a stalker seven years ago: "When you and her have your baby, rest assured, I'll be the one that raises it."
8. Kiefighter
Had a girl request me to break into her apartment, make her hot chocolate in her kitchen, while she's scared in her bedroom and then come in and have sex.
9. MrLipton
I had a girl I once kissed at a party proceed to send me pictures of her crying, half naked and makeup smeared all over her face joker style.
She won't stop calling me or sending random pictures of herself with distressed or angry face. This has been going on for three months now.
10. Knumbknuts
"I masturbate in the women's room with those thick highlighters."
11. HandsomeDynamite
Was talking to a girl on the phone who at the time was fucked up on painkillers and started relating to me a story about how when she was 7 she pushed a girl into a pool and watched her drown. Her grandma came home, found out about it, and told her to tell the police it was an accident.
That should have been a warning sign right there.
12. TexasFight
I had to borrow a girls computer once for a group project in college. I got to the group meeting and there was a password. I called her and after 10 minutes she finally gave me the password, which was her first name and my last name
13. Jernon
I was on a study abroad trip to the middle of nowhere, Ireland, to study photography. Sitting down to lunch one day, a girl I was traveling with said, "I wish I could cut off all your hair and knit it into a sweater for me to wear. It would keep me warm." She said it while smiling in a friendly way, but there was intensity in her eyes. It made me uncomfortable.
14. Agoostaholic
I went to a football game with this girl. Afterwards, I went to meet her dad, which was already kind of weird. He said to her, "Is this the boy you've been talking about for the past 3 months?"
I had known the girl for 4 days
15. MB38
"Put on a condom, you don't know where I've been."
16. Dutchwank
When I was about 17 years old I worked at a cafeteria and some girls (11 and 13) where chasing me for weeks. They even waited in front of my door when I had to go to work to chase me all the way up there.
One day I was working and the cafeteria was full with people when the eleven year old girl said "when can I give you a blowjob", everyone instantly looked at me.
Uncomfortable isn't even the right word to describe my feelings at that moment.
17. Laggedreaction
"I want your meat tampon."
Had to explain to her how that was not a turn on.
18. OsamaBinPanda
I was having sex with a girl I knew and she starts shouting my best friends name... then the names of 3 other men I didn't know..... It creeped me out beyond belief so I told her I was done. She climbed off me, started pleasing herself and moaning her own name while glaring at me over her shoulder. We were on a lot of drugs and it was the worst night of my life. Haven't spoken to her since.
19. Variability
Making out with a girl I was seeing, lightly slide my hand up her chest, and as my hand is going to caress her cheek, she grabs it around her neck and forces me to choke her which is fine... she then proceeded to call out her brother's name...
20. Revenant10-15
I was over at her dorm room and, after we got done with our business, I spotted a bottle of my Cologne on her desk. I asked her about it, and she said she sprayed it around to make her room "smell like me."
http://www.mandatory.com/2014/04/11/...hem-by-a-girl/
Ex Bitteeinbit/LexusSchmexus
Expatriate
Posts: 755
Joined: Thu May 29, 2014 9:50 am
Reputation:

12
Bitte_Kein_Lexus wrote: 10. Knumbknuts
"I masturbate in the women's room with those thick highlighters."
Got a feeling that would've made me drop my bacon sandwich.
According to the proverb: The pun is mightier than the sword
The Pun-isher
Posts: 6077
Joined: Mon May 12, 2014 6:51 pm
Reputation:

185

Location: The Kremlin
A hot girl I dated at university often appeared to a be a little bit crazy (well, she WAS dating me, right?)

Anyway, things started getting serious, she starts getting really possessive.

One evening, she tells me about the time she took an axe to a guy's car because he dumped her for another woman.

Ejector seat needed.
Jesus loves you...Mexico is great, right?

Expatriate
Posts: 271
Joined: Thu May 15, 2014 3:25 am
Reputation:

3
My first adult girlfriend and I were fucking in her apartment with the baseball game on. Suddenly, in the middle of the action she asks me who's catching. We had a talk about what was appropriate bedroom banter...later.

I really liked this one woman and we finally went all the way. "I think we should get married soon," she said not a minute after I'd finished.

A woman that I was casually dating called me and sent me multiple texts messages all day one day whilst I was at work. She texted that she would be waiting for me in front of my apartment and that she needed to talk. When I got there I got the big melodramatic hug, and in an Asian city so it didn't go unnoticed (I lived on a busy street). She comes upstairs and tells me she is pregnant. Then she pulls me close and hugs me a little too tight. She then proceeded to bite my bicep so hard that I considered punching her in the face to get her to stop. As I am washing the fuck out of my human bite in the sink I ask her how late her period was.
"Two days."
She had her period the next day.
Expatriate
Posts: 11330
Joined: Sat May 17, 2014 4:10 am
Reputation:

2091
whew- ima avoid this thread from now on.

the biting and the axe were too much.

i have one story you can ask me about next time we meet.

wouldn't like to commit it to document.
I imagine dating a woman named Sreymom could lead to awkward moments.

Side note- Awkward is an awkward word to spell. How apt.
Last edited by
ali baba
on Mon Jul 07, 2014 7:38 am, edited 1 time in total.
Scarier than malaria.
She said "Tomorrow Flee" and I did.
Used to have a real stunner for a landlady and we would flirt a little when she collected the weekly rent. All rather harmless really, until the time she told me her husband was worth a million pounds.......dead!
Similar Topics

Replies
Views

Last post