Register/Login to CEO with your Social Media Account:
Site Admin
Posts: 4193
Joined: Fri May 02, 2014 8:05 pm
Reputation:

16
Obviously as expats the luster of tourist type attractions fade over time... but there are little "off the beaten path" type of things to do that not all tourists/new arrivals are aware of. I'll list the ones I can thinks of, others please help me make the list larger.
Oudong Temple
I really enjoyed this temple, and I'm not huge on the "temple experience" so much. It has amazing views from the top, some really cool artwork/etc, and the market not far from it (down the hill, to the back) had a really interesting selection of less common local foods to choose from and have a picnic with. It was a really fun short trip out of Phnom Penh.
Kbal Chhay Waterfall
This Sihanoukville waterfall is pretty cool in my opinion. Rarely sees much of a tourist crowd, mostly Khmer families. Depending on the season it's 2 different experiences. In the wet season it's a very impressive violent waterfall which I find fascinating to watch, with smaller streams upriver being nice to wade in with a little current. In the dry season it's as you see in the photo above, a fun waterfall to so stand in and swim in.
Phnom Chhnork Cave
Living so close to Kampot, there's really no excuse for why I haven't been to this cave other than I'm a little lazy lately. It looks incredible, and I happen to really really love caves.
Expatriate
Posts: 1559
Joined: Sat May 17, 2014 5:51 am
Reputation:

0
Ratanakiri Waterfalls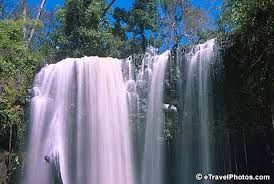 A popular place for local tourists when visiting this region
Indigenous tribes in Mondolkiri
An interesting place to check out one of the most isolated areas in Cambodia.
EVERYONE BOW DOWN AND PAY EXTREME HOMAGE TO HIS MAJESTIES flying chicken©
Similar Topics

Replies
Views

Last post
Users browsing this forum: No registered users and 147 guests