Register/Login to CEO with your Social Media Account:
Expatriate
Posts: 4267
Joined: Mon May 19, 2014 1:06 pm
Reputation:

468
That's my Saturday sorted. Margaritas and 18 holes of tee off.
I am back Tuesday..........and will be ready for some Golden Tee. I would like to start doing some Sat. or Sun. tournaments if we can get a few players.
jah steu wrote: The manager said, quote "I don't care" and the owner, who was on the premises, wouldn't speak to me.
They may have thought you were there to poach girls and served you the piss as payback. Happens all the time here. Part of the game. Just another example of what it can all lead to and how it's once again taking the focus away from the girls to the "owners". Sorry you were disappointed and very surprised they didn't toss you out because you brought in your own booze. Next time wear a disguise and advise us what you were served.
Another Khmer rip off. You are surprised?
Just read a rant on the Siem Reap FB page related to this topic: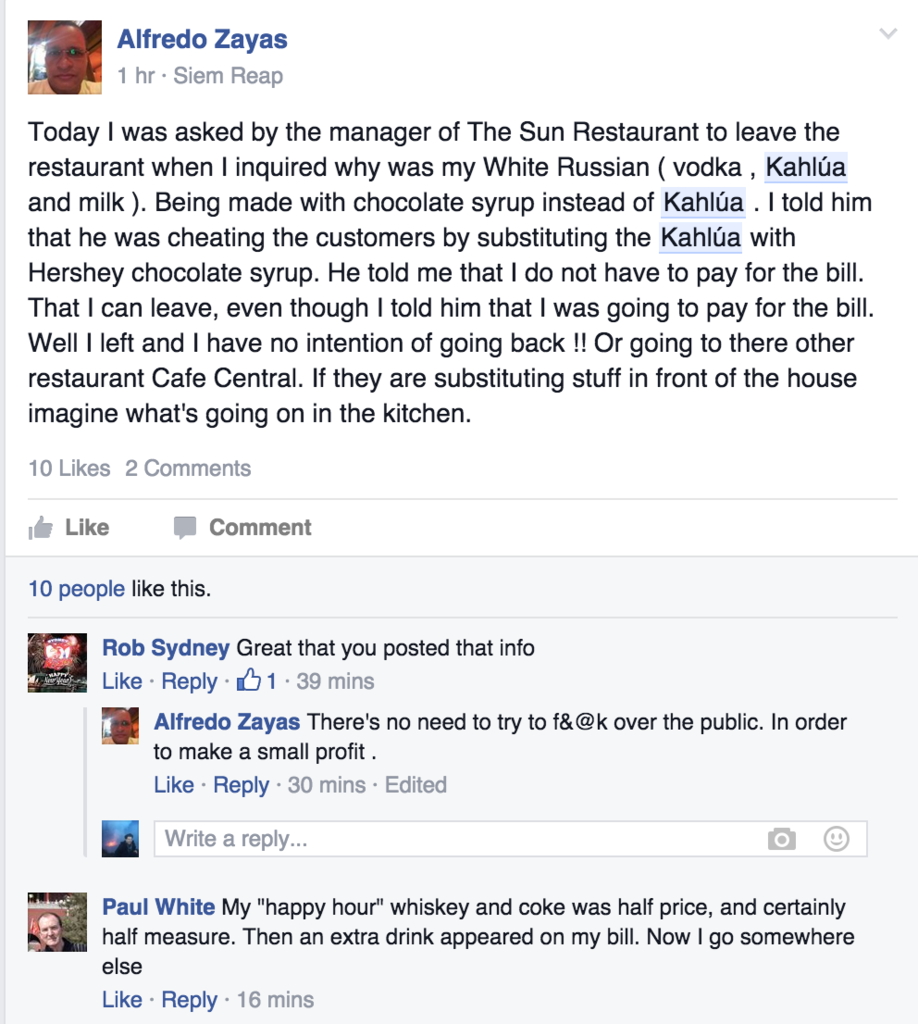 Expatriate
Posts: 3362
Joined: Sat May 17, 2014 11:26 am
Reputation:

3584

Location: Behind you.
Sitting in a bar in Kuta at 3am a few years ago with four others we were into the top shelf. The woman sitting next to me asked for a vodka and orange. She was a barmaid and suspected the vodka was diluted so asked for a shooter of vodka. Sure enough watered down to almost nothing. The rest of us too drunk to realize, then asked for shooters of whiskey to gauge our own mixes. Yep, all watered down close to nothing. There was almost a riot and all said we won't be paying our bill. The manager went down the street to return with bottles of liquor purchased elsewhere and poured out some free drinks. There were numerous bottles of the liquor we were drinking sitting on the shelf suggesting everything in the bar had been tampered with otherwise the manager wouldn't have had to purchase authentic grog elsewhere.

Bastards.
The idea that seeing the world is going from place to place to look at obvious things is an illusion natural to dull minds.
Expatriate
Posts: 528
Joined: Fri Oct 23, 2015 3:03 pm
Reputation:

0

Location: the ceiling
tight arses .
ceiling cat is watching you masterbate
Many a barang "bar owner" aka has been ripped off on some lease....will not be involved in the watering down of booze on the shelf. He is just trying to get drunk for free and be a pimp in a third world country. What motivates the worker to dilute is the simple fact he/she can skim money serving two drinks, one payment going to the drunks till, the other to his/her pocket. It's difficult to blame the barang for this, he is after all, drunk and a pimp in shinning armor.
Why would anyone drink Southern Comfort anyway? (and I 'm from the Southern USA)...
Similar Topics

Replies
Views

Last post
Users browsing this forum: No registered users and 134 guests