Register/Login to CEO with your Social Media Account:
Expatriate
Posts: 10695
Joined: Wed May 28, 2014 11:37 pm
Reputation:

2149
Giving rare and expensive fruit as a gift gives you high status in Japan. I get the feeling that it's more about how much it cost to buy than whether the fruit is any good, despite what they say here.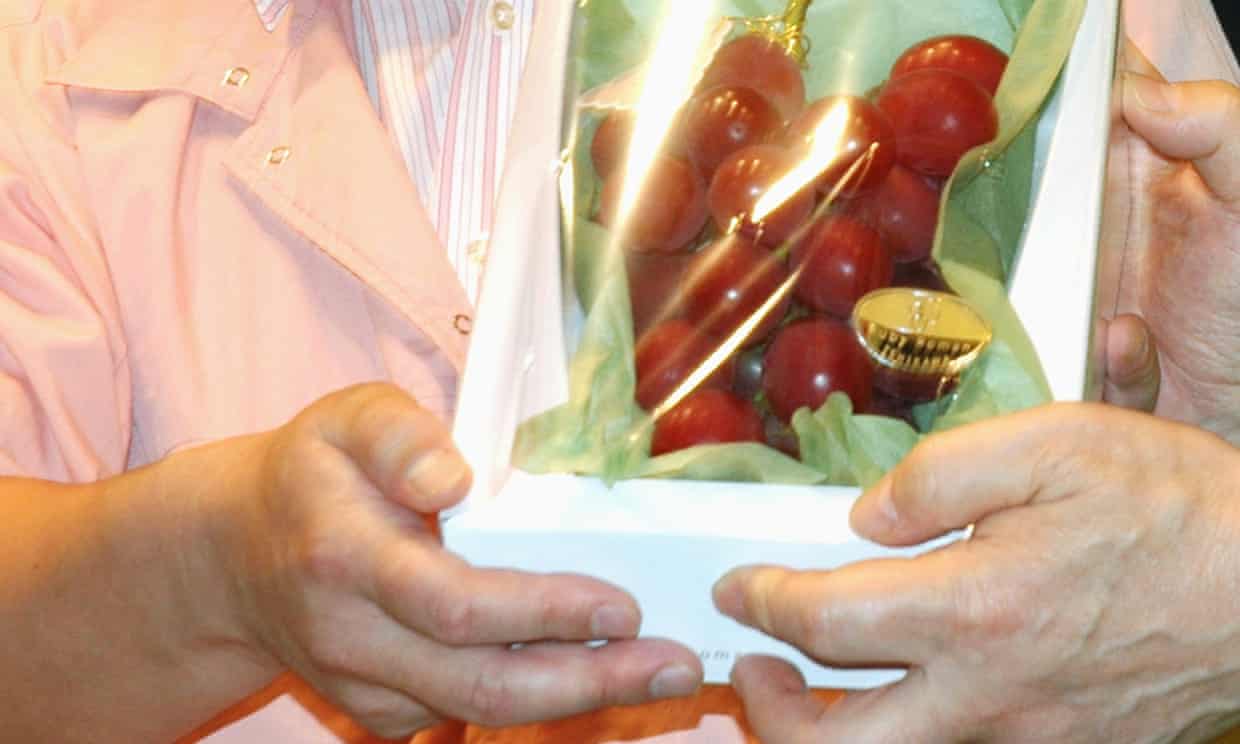 AP
The bunch of about 30 grapes of the Ruby Roman variety sold for 1.1m yen (£8,350) – about £270 a grape. Each grape is roughly the size of a ping pong ball.

The grapes are grown in Ishikawa prefecture, and to qualify for the Ruby Roman designation, each grape must weigh at least 20g and have a sugar content of at least 18%.

According to the Ruby Roman club website run by the Ishikawa prefecture, the cultivation process began in 1992 when seeds of the Fujiminori variety were sown. Over the years, they were then cultivated into the Roman Ruby variety, which was named after submissions from the public in 2004. The first grapes went on sale in 2008, and prices have been rising ever since.

Seasonal fruit offerings in Japan routinely attract large sums from buyers seeking social prestige, or from shop owners keen to attract customers...
https://www.theguardian.com/world/2016/ ... 0-in-japan
And I'm sure someone has an appropriate meme for this ...

The king of fruits in the country is the melon, which serves as a status symbol akin to a vintage wine, and is given as a high-ranking gift. A single pair of melons fetched 1.5m yen at an auction last year.
Expatriate
Posts: 2068
Joined: Thu Oct 02, 2014 1:23 am
Reputation:

8
good price.
i am on these blocked lists;
pucketrichard
hotdgr
sailorman
rozzieoz
stroppychops

Expatriate
Posts: 7725
Joined: Sun Dec 07, 2014 11:26 pm
Reputation:

3567
SinnSisamouth wrote:good price.
Juansweetpotato reckons they should only be £8,300.
Expatriate
Posts: 686
Joined: Mon Dec 14, 2015 4:09 pm
Reputation:

0
My Japanese years are behind me and my memory is far from perfect, but I clearly remember a period when one particular kind of mushroom was selling for over $700 a mushroom and when there were headlines about an active smuggling trade from North Korea (DPRK) involving rare mushrooms and freshwater fish changing hands for several thousand dollars a kilo.
Expatriate
Posts: 4440
Joined: Fri Jan 29, 2016 12:39 am
Reputation:

815

Location: anywhere with cheap bonks
Money is not the problem, the problem is no money
Similar Topics

Replies
Views

Last post
Users browsing this forum: No registered users and 68 guests