There has been a surprise announcement that starting from today 21 March 2017, flights to the US from certain countries will not allow any electronic devices larger than a cellphone in cabin carry-on luggage. These devices include ipads, kindles, laptops and cameras larger than cellphone size. Two of the countries concerned by these restrictions are Saudi Arabia and Jordan.
More information on this later.
US forbids any device larger than cellphone on airlines from 13 countries

New TSA requirement blocks passengers from bringing laptops, iPads, Kindles and cameras, with a lack of specifics on whether flight crews are included in rule.
US authorities have secretly required airlines from 13 nations to forbid passengers from carrying any electronic or electrical device larger than a cellphone.
The new edict was distributed in an email described as "confidential" from the US transportation safety administration (TSA) on Monday.
The requirement forbids passengers from bringing laptops, iPads, Kindles and even cameras larger than mobile phones into the cabin. All such devices must be checked.
Saudi Arabia's Saudia Airlines and Royal Jordanian airlines are among the affected countries; the full list has not been revealed to the affected airlines themselves...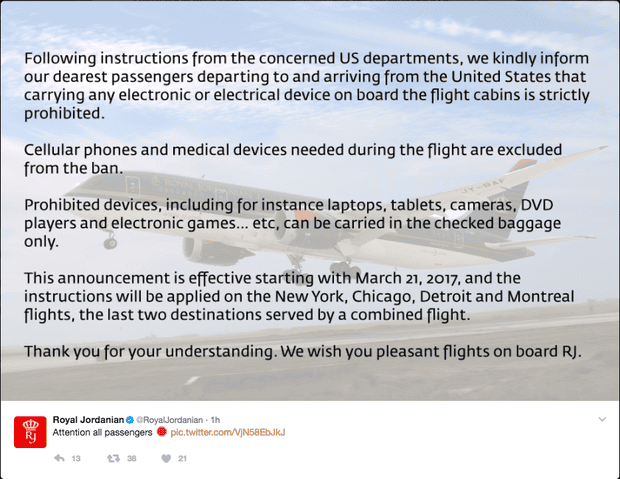 https://www.theguardian.com/business/20 ... -countries