And, it's expensive!
Mauviel model #3651.36, 14.1 inches/36 cm
100% brand new. Unused, unseasoned, and still has the original, factory applied, bees wax coating.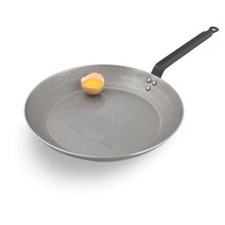 https://www.mauvielusa.com/cookware/M-S ... lu442.html
Made in France by Mauviel, this M'Steel frying pan has a carbon steel construction that creates the results of cast iron, without the weight. This 14.1-in. round pan's carbon steel will conduct heat quickly and evenly to sear your meat to perfection, while retaining flavor and nutrients. A triple riveted cast iron handle helps you maintain a stable grip while cooking and transporting.

Features:

M'steel Fry Pan, 14.1" diameter, round, without lid, steel handle (12"), gas/electric/halogen/induction/oven safe, hand wash, 2.5mm carbon steel, 8 lbs.

Black steel (carbon steel). Excellent heat conduction. High density material, does not retain odors. Withstands high temps so allows longer preheating - killer searing - seals in nutrients and flavors. Black finish - part of final heat treatment in manufacturing process (changes color when heated and over time). After seasoning it acquires natural non-stick properties. Safe at very high temperatures and metal utensils. Lighter than cast iron. Commercial grade durable product. Hand wash - with hot water immediately after use & then wipe immediately with paper towel, store in dry place. Made in France
$145, which is a little less than if ordered through Cambo Quick.