Expatriate
Posts: 5451
Joined: Wed May 28, 2014 11:37 pm
Expatriate
Posts: 5451
Joined: Wed May 28, 2014 11:37 pm
In the OP PPP article, the "sorcerer" was a member of a minority tribe, and for me that partly explained why the people concerned were so superstitious.
However, in another article about curses by activists, (also from the PPP), it seems that cursing is a fairly widespread practice, and that the appropriate rituals are still known and used.
http://www.phnompenhpost.com/post-weeke ... eir-curses
" onclick="window.open(this.href);return false;
For Um Sophy – who helped prepare the effigies representing KDC owner Chea Kheng, her husband, Minister of Industry, Mines and Energy Suy Sem, investors, and government authorities – the curses were deadly serious and only used as a last resort.

"I have more faith in a superstitious ritual than I do in the judicial system," she said, adding that three officials and a surveyor had died since the villagers' first curse.

"We asked them to help us, but they didn't, that's why they died," she said.
Interesting how it can be seen as the other face of religion:
"When we do Buddhist rituals, we don't curse, we only sit still and do meditation, we wish in peaceful way," she said. "But when we follow the Brahminist way, we curse them and do different kinds of activity as I have told you. We do it when we are angry with them instead of doing physical violence."
When you wish someone dead "the Buddhist way"

then you hope they die peacefully in their sleep, and "the Brahminist way"

you wish that they will be run over by a truck?
This does not sound particularly "zen".

Expatriate
Posts: 5451
Joined: Wed May 28, 2014 11:37 pm
Five "witches" were killed in India by villagers:
http://www.theguardian.com/world/2015/a ... witchcraft
" onclick="window.open(this.href);return false;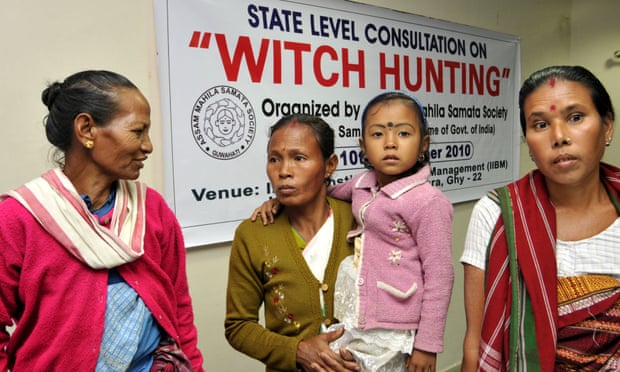 Five women have been killed in eastern India by villagers who believed they were witches, according to local officials.

The killings took place in a rural community in the state of Jharkhand, where there are frequent reports of fatal attacks on women who locals say have cast curses that are blamed for poor crops, illness or misfortune. The killings often disguise family feuds or land disputes.

In the latest incident villagers with sticks and knives attacked the five women on Friday night in the town of Kanjia, police officials said.

"The women were dragged out of their home while asleep and beaten to death by the villagers suspecting them to be witches … some were even stoned to death," said Jharkhand police spokesperson SN Pradhan.

Around 50 villagers were arrested, Pradhan said, adding: "The entire village was involved in the crime."...
That's some scary shit.
According to Indian government statistics around 2,000 people, almost all women, were killed after being branded witches between 2000 and 2012. Many attacks go unreported, campaigners say.
Double, double toil and trouble; Fire burn, and caldron bubble.
General Mackevili: I just don't want you littering our forum with your drivel.
Expatriate
Posts: 5451
Joined: Wed May 28, 2014 11:37 pm
Another sorcerer sought sanctuary with the police on Sunday.
Fear and ignorance make a powerful combination. But a bit foolish to be doing "magic tricks" when you belong to a community that believes that magic is for real.
...Sal Toun, chief of O'Yadav district's Som Thom commune, said 44-year-old Sol Thail was chased from his Som Trok village home because of allegations he had used black magic to murder multiple neighbours.

"More than 400 villagers chased him away from the village, because he is a sorcerer who made some villagers die," he said.

According to Toun, Thail, of the Jarai ethnic minority group, was accused of being a sorcerer after performing a magic trick for his neighbours in which he made a rock appear to disappear.

The father of six, who lost both of his hands in a landmine explosion, has been held in protective custody at the commune police station since Sunday...
http://www.phnompenhpost.com/national/s ... -sanctuary
" onclick="window.open(this.href);return false;
The Cool Boxing Guy
Posts: 7501
Joined: Mon Apr 20, 2015 10:34 am
Location: Sihanoukville
Contact:
Ive been cursed before by some khmer woman, scary shit!
Ter Mtes Aii Na Del Min Chas Hel
Punchy McShortstacks School of Hard Knocks

The father of six, who lost both of his hands in a landmine explosion
Obviously not "sleight of hand" magic.
Witches are offering a "protection racket" type of service. ie: health, wealth, and good luck. Same as many religions.
If you live by the sword be prepared to die by the sword.
Expatriate
Posts: 65
Joined: Thu Aug 06, 2015 1:47 pm
Location: stung meanchey dump
welcome to the middle ages.
cambodia is a shithole .......




but i like it here.
Expatriate
Posts: 5451
Joined: Wed May 28, 2014 11:37 pm
Big magic - drink bad rice wine, get really sick and blame the hangover on your neighbour. Then kill them to make you feel better. That's a radical hangover cure.
Tales of ignorance, nothing to do with sorcery.
...Three suspects have been arrested in relation to the murder – 52-year-old Hauk Samnang, her son-in-law, Samban Buth, 27, and her son, Yan Dauch, 25.

According to Nor, days before the murder Samnang fell sick after drinking wine with Yoeurm, whom she accused of using sorcery to make her ill.

Samnang "ordered her son-in-law to kill Rem Yoeurm. She told him that if he did not kill the victim, she would hire someone else to do it," Nor said...
Very depressing.
http://www.phnompenhpost.com/national/s ... g-examined
" onclick="window.open(this.href);return false;
Expatriate
Posts: 5345
Joined: Sun Oct 12, 2014 5:13 am
Location: CEO Newsroom
Elderly Farmer Killed Over Sorcery Claims
by Phan Soumy | May 9, 2016
An elderly farmer was stabbed to death at his home in Kompong Speu province on Friday in a case that police believe is linked to accusations that the victim used black magic to cause a series of deaths in the area.
It was the second murder of an accused sorcerer in the province in recent weeks, following the decapitation of a mango farmer, allegedly carried out by his daughter-in-law and her aunt.
Mean Sean, 79, a rice farmer and local undertaker, was stabbed eight times in the stomach while cooking a meal beneath his small stilt house in Kong Pisei district's Veal commune at around 8:30 p.m., deputy district police chief Keo Saroeun said on Sunday.
"He was preparing dinner while his wife was changing clothes upstairs," Mr. Saroeun said, adding that his wife, 66-year-old Sous Kheoun, hurried downstairs when she heard her husband collapse but arrived too late to spot his killer, or killers.
The police official said Mean Sean's neighbors had long suspected him of practicing black magic, and that residents of three villages in the district had filed formal complaints with authorities this year accusing him of sorcery.
Mr. Saroeun said the accusations stemmed from a series of unexplained deaths in the area but added that there was no evidence to suggest they were the result of anything other than natural causes.
"I inspected his house," Mr. Saroeun said of Mean Sean, "but there were no decorations or suspicious objects that would show that he was a sorcerer and knew black magic."
continue reading
https://www.cambodiadaily.com/news/elde ... ms-112331/
Cambodia Expats Online helping you stay connected to news and current events in Cambodia and surrounding areas.
---
Similar Topics

Replies
Views

Last post
Who is online
Users browsing this forum: Google [Bot] and 171 guests