What a surprise. Looks like the Australian govt's "cunning plan" to offload asylum seekers has back-fired on them.
Australia 0 Cambodia 1 ?
Last modified on Monday 31 August 2015 05.42 BST

Australia's $55m plan to resettle refugees from Nauru to Cambodia appears finished, with just four refugees moved to the south-east Asian country at a cost of more than $13m per refugee.

Four refugees – an Iranian couple, Iranian man and a Rohingyan man from Burma – were transferred from Nauru to the Cambodian capital Phnom Penh in June.

Since then, they've lived in relative luxury in an Australian-funded villa, and will remain there indefinitely.

However, Cambodia expects it will take no more from Australia's resettlement plan.

"We don't have any plans to import more refugees from Nauru to Cambodia," interior ministry spokesman Khieu Sopheak told the Cambodia Daily. "I think the less we receive the better."

But Australia's foreign minister Julie Bishop denied the deal was collapsing. "That is not correct. You're relying on an alleged statement of one official," she told reporters in Sydney.

Bishop said she had had a positive meeting with her Cambodian counterpart earlier this month and said the southeast Asian country was keen to harness the skills of foreign workers to boost its gross domestic product.

Tony Abbott said Cambodia had been helped by the international community when it was "in trouble some years ago" – a reference to the Khmer Rouge period – but that it was now keen to assist in managing refugee flows...
LOL, of course. Can see that Abbott and his ministers have a good overall understanding of how things work and how to successfully negociate with Cambodian authorities. Brilliant work.

http://www.theguardian.com/world/2015/a ... ralia-deal
" onclick="window.open(this.href);return false;
I'd be laughing too in that position. Bet those aussie taxpayers are a trifle pissed off. They should be.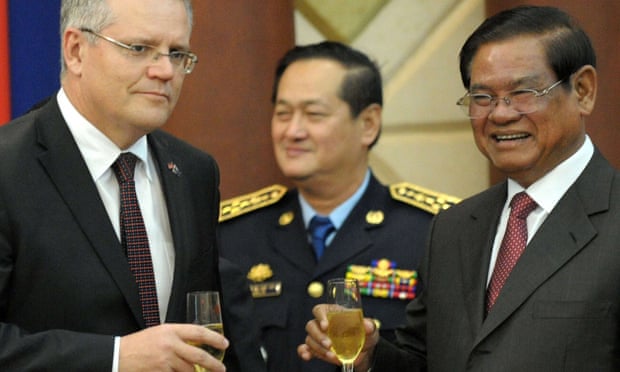 A year after Scott Morrison trumpeted the arrangement with a champagne toast, ministers were left flat-footed by Cambodia's reportedly abandoning the plan
http://www.theguardian.com/australia-ne ... -went-flat
" onclick="window.open(this.href);return false;